Mental Health Struggles in Adolescence and the SLP
Presented by: Sharon Baum CCC/SLP
Instructor Bio: Sharon Baum, MA, CCC-SLP, is a speech language pathologist in the NYC Deparment of Education and provides services in the ASD Nest Program, as well as privately in the clinic setting and homes. She is also a freelance writer, and has published for the ASHA Leader. She supervises students in graduate school, and loves sharing ideas with colleagues and students. Her interest and understanding of students struggling with mental health is supported by her undergraduate degree in Psychology at CUNY Brooklyn College. She completed her MA in Speech Language Pathology at CUNY Lehman College. Sharon is currently a member of ASHA Sig 17, Global Issues in Communication Sciences and Related Disorders, with a high interest in mentoring and collaboration.
Presenter Financial Disclosure: Sharon Baum is paid a percentage of each sale of this course. Non financial: None to report.
Content Disclosure: This learning event does not focus exclusively on any specific product or service.
Course Description: This audio course is geared towards helping SLP's develop a better understanding of how to identify, treat and provide a supportive treatment plan for students on their caseload who are struggling with mental health concerns.
Learner Outcomes:
Participants will be able to identify a mental health crisis.
Participants will be able to identify 3 signs of a mental illness.
Participants will be able to describe 3 strategies that can be utilized when administering speech-language therapy to students with mental illness
Course Agenda ( This is an audio course, powerpoint slides are made available for you to print and follow along with )
0-10 minutes Background of mental health challenges in adolescence, including differentiation
10-25 minutes SLP strategies for Identification of a mental health crisis or challenge
25-40 minutes Collaborative services with other professionals and referrals
40-55 minutes Strategies to incorporate into speech therapy for students with mental health challenges
55-60 Quiz
Login and logout times will be recorded and documented. To complete the course, include your ASHA information when registering, view the course videos, take the quiz. When you have completed these requirements a certificate will be available in your profile.  
ABA SPEECH is committed to providing equal opportunities in accordance with all applicable laws. If you are in need of a disability-related accommodation, please contactrose@abaspeech.org. We will review your request and respond in a timely manner. Please note that we will require a minimum of 4 weeks to provide a reasonable accommodation for your request.
Visit https://abaspeech.org/course or give us a call at 330-954-0170 if you have questions.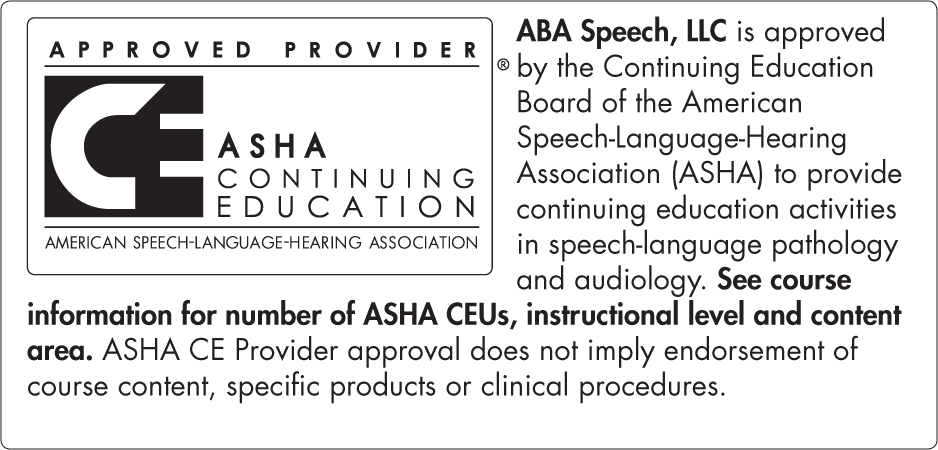 This course is offered for .10 ASHA CEUS
(Introductory Level, Professional Area)