****YOU MUST ALSO REGISTER FOR THE LIVE WEBINAR BY CLICKING HERE****
Presented by: Andi Putt M.S. CCC/SLP
Andi Putt has been a speech language pathologist since 2008, she graduated from the University of Texas at Dallas with a master's degree in Communication Disorders. She currently works in both the public schools and the private practice setting.
Presenter Disclosure: Financial: Andi will be paid a percentage from the sales of this webinar.
Non-financial: Andi is the creator of the website www.mrsspeechiep.com
Content Disclosure: This learning event does not focus exclusively on any specific product or service.
Course Description: This presentation is about autism spectrum disorder in the female population. Learners will recognize characteristics that are frequently missed by parents and professionals, as well as the different ways autism presents in the male and female population.
Once you purchase the course, you ALSO NEED TO REGISTER FOR THE LIVE COURSE. THIS LINK WILL BE MADE AVAILABLE UPON PURCHASE. YOU WILL SEE THIS LINK IN YOUR COURSE, LOCATED IN YOUR PROFILE AT ABA SPEECH. If you have any trouble please contact us at rose@abaspeech.org
Learner Outcomes
Learners will be able to:
Objectives:
Recognize characteristics of Autism Spectrum Disorders (ASD) in children
Understand and identify differences between typical gender presentations of Autism
Analyze videos of girls diagnosed with Autism to recognize subtle characteristics
Course Agenda
0-10 minutes Introduction
10-25 Autism characteristics
25-50 Autism in females (what to look for, differences, analyzing videos)
50-55 Wrap up
55-60 Questions
Login and logout times will be recorded and documented. To complete the course, include your ASHA information when registering, attend live October 14th at 8pm eastern.
When you have completed these requirements a certificate will be available in your profile.
To have your participation reported to ASHA. You must fill out an ASHA participant form and turn in by October 28, 2020. This must be completed and sent to me at rose@abaspeech.org or ABA SPEECH P.O. Box 733 Aurora Ohio 44202) by October 28,2020.
You will need to fill out your personal information on the form. The top part of the form you will need to fill out the following. Provider Code: ABGZ, Course Number 0120- 001: , Completion Date: 10/15/2020.
ABA SPEECH is committed to providing equal opportunities in accordance with all applicable laws. If you are in need of a disability-related accommodation, please contact rose@abaspeech.org. We will review your request and respond in a timely manner. Please note that we will require a minimum of 4 weeks to provide a reasonable accommodation for your request.
ASHA CE Registry Submission: When you enroll in a course and select to request ASHA CEUs for course completion, ABA Speech will prepare to automatically submit your information to the ASHA CE Registry once completion requirements have been met (i.e. pass all assessments and complete program evaluation). ABA Speech submits this completion information monthly [on the 15th of the month]. Please allow three weeks from the submission date by ABA SPEECH for the course and ASHA CEUs to appear on your ASHA transcript.
Group Pricing: We offer group pricing and can give you a quote for your group. Email Rose at rose@abaspeech.org and let her know the size of your group to request a quote.
Purchase Orders: We take purchase orders. You can pay with a purchase order directly on the site. Email rose@abaspeech.org with any questions about this process.
Visit https://abaspeech.org/course or give us a call at 330-954-0170 if you have questions.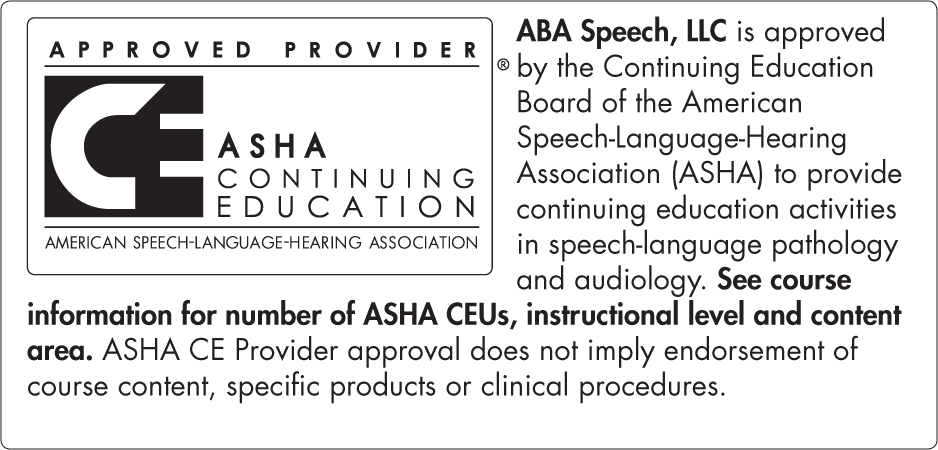 This course is offered for .10 ASHA CEUS, (Introductory Level, Professional Area)