Get Started
This course is currently closed
You need to register for the LIVE webinar by clicking this link.
Presented by: Ashley Rossi M.A., CCC-SLP
Ashley Rossi is a licensed Speech-Language Pathologist in Texas with 20 years of experience. She owns a private practice specializing in the diagnosis and treatment of language and literacy disorders in children. Ashley also shares about literacy-based intervention on her blog, Sweet Southern Speech, and sells downloadable resources in her Teachers Pay Teachers store.
Presenter Financial Disclosure: Ashley Rossi receives money from the sale of therapy resources in her Teachers Pay Teachers store and on her website, Sweet Southern Speech. Ashley is compensated for providing this professional development course
Presenter Non-financial Disclosure: Ashley is the founder of the blog Sweet Southern Speech.

Content Disclosure: This learning event does not focus exclusively on any specific product or service.
Course Description: Participants will learn about the role we play in diagnosing and treating literacy-based language disorders. Best practices will be given for goal writing, book selection, data collection and more!
Learner Outcomes
Participants will be able to define the SLP's role in a literature-based approach to Speech Therapy.
Participants will be able to identify best practices regarding assessment and intervention.
Participants will be able to identify components of effective therapy implementation using a literature-based approach.
Course Agenda
0-10 Introduction/ Objectives/ Agenda
10-15 SLP's role in literacy
15-20 Assessment
20-30 Group development and goal selection
30-40 Literacy Based Material Selection
40-50 Treatment strategies
50-55 Data Collection
55-60 Q/A
60-65 Evaluation
Login and logout times will be recorded and documented. Purchase this webinar. Once you purchase the webinar, you will be sent a link to register for the live event. The link will be sent to the email associated with the purchase of the webinar.
To complete the course, view the course live, take the quiz, complete the ASHA participant form as stated and send to rose@abaspeech.org or ABA SPEECH P.O. Box 733 Aurora Ohio 44202 by August 15th ( please do not fold). When you have completed these requirements a certificate will be available in your profile.
ABA SPEECH is committed to providing equal opportunities in accordance with all applicable laws. If you are in need of a disability-related accommodation, please contactrose@abaspeech.org. We will review your request and respond in a timely manner. Please note that we will require a minimum of 4 weeks to provide a reasonable accommodation for your request.
Visit https://abaspeech.org/course or give us a call at 330-954-0170 if you have questions.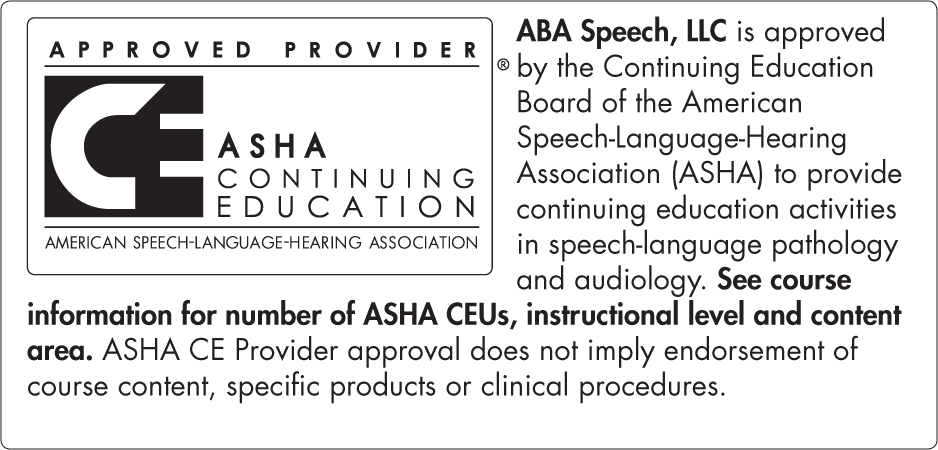 This course is offered for .10 ASHA CEUS
(Introductory Level, Professional Area)