***You must click here to register for the LIVE webinar****
Presented by: Emily Cohen M.A. CCC-SLP
Emily is the owner of Tandem Speech Therapy, a private pediatric speech therapy practice in Austin, Texas. She graduated with her M.A. in speech-language-pathology in 2008 and previously worked as a special education teacher. Emily is also the author and developer of playing with purpose- a framework for using play to build speech and language skills.
Presenter Financial Disclosure: Emily Cohen is the owner of Tandem Speech PLLC. She receives payment from the sales of products and courses on her site. She will be paid a percentage from the sales of this webinar.
Presenter Non-financial Disclosure: Emily is the founder of the website and blog Tandem Speech Therapy.

Content Disclosure: This learning event does not focus exclusively on any specific product or service.
Course Description: : This course offers a framework for embedding communication based opportunities across everyday activities with children to help improve their speech and language development. Language development during play and ways to implement these strategies will also be covered.
Learner Outcomes
Participants will be able to list the 3 types of play.
Participants will be able to list the 5 stages of play.
Participants will be able to describe 3 strategies to use during play to build language skills.
Course Agenda
0-5 minutes Introduction
5-10 minutes Language development
10-15 minutes How children learn during play
15-25 minutes Communication and play basics
25-35 minutes Playing with purpose framework
35-45 minutes Communication and play strategies
45-55 minutes Toys and Activities to use during play
55-60 minutes Key Point Review
Login and logout times will be recorded and documented. To complete the course, join us live on November 11th at 8pm eastern, take the quiz( in your course) and survey (sent via email). When you have completed these requirements a certificate will be available in your profile.
Upon completion of the above, you will also be directed to fill out information about ASHA. If you would like your participation reported to ASHA, you must fill this out by November 28, 2020.
ABA SPEECH is committed to providing equal opportunities in accordance with all applicable laws. If you are in need of a disability-related accommodation, please contact support@abaspeech.org. We will review your request and respond in a timely manner. Please note that we will require a minimum of 4 weeks to provide a reasonable accommodation for your request.
Visit https://abaspeech.org/course or give us a call at 330-954-0170 if you have questions.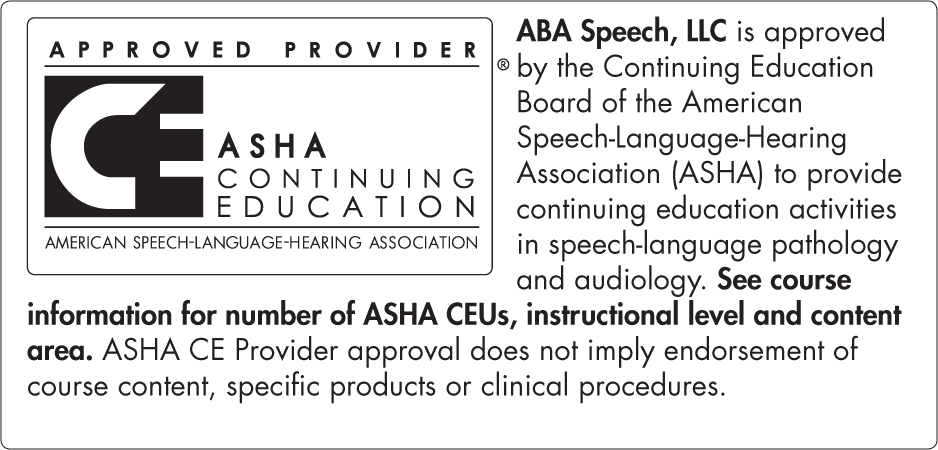 This course is offered for .10 ASHA CEUS
(Introductory Level, Professional Area)