***You must click here to register for the LIVE webinar***
Presented by: Tamara Anderson, M.S., Ed.S., CCC-SLP
Bio: Tamara Anderson is a pediatric speech-language pathologist and education specialist with 16 years combined experience. She is the owner of Building Successful Lives Speech & Language Services, LLC in Snellville, GA that is in the Metro Atlanta area. She specializes in language and literacy disorders as well as multicultural and multilingual considerations in children and adolescents. She has extensive experience providing speech-language therapy services for children and adolescents in a variety of settings. Additionally, she has SLP experience providing services to adults in acute care, inpatient rehab, and outpatient rehab. Tamara has successfully identified and remediated communication, language, and literacy disorders in children and adolescents. She blogs about best practices in the fields of speech-language therapy and education. She creates informal assessments, progress monitoring tools, and therapy materials for speech/language pathologists. Tamara provides consultative services for novice and seasoned SLPs to enhance their success at work in the school, clinic, and early intervention settings with culturally and linguistically diverse clients.
Presenter Financial Disclosure: Tamara Anderson is the owner of Building Successful Lives Speech & Language Services, LLC. She receives income from various contracted services. She receives income from creating speech/language assessment and therapy materials that are for sale in a Boom Learning Store and Teacher's Pay Teacher's curriculum store. She will be paid a percentage from the sales of this webinar.
Presenter Non-financial Disclosure: Tamara is the founder of the website and blog Building Successful Lives.
Content Disclosure: This learning event does not focus exclusively on any specific product or service.
Course Description: This course is designed for speech/language pathologists to increase their knowledge about culturally responsive therapy.Speech/language pathologists will learn information that they can apply in a practical and meaningful way to their clinical practice with preschool and school aged children in a variety of settings.
Learner Outcomes
Participants will be able to define culture and cultural competence
Participants will be able to define cultural humility & professional competence
Participants will be able to define 2 ways to provide culturally responsive speech & language therapy
Course Agenda
0-5 minutes Introduction
5-15 minutes Diversity in the United States
15-30 minutes Culture, cultural competence, cultural humility, & professional competence
30-40 minutes Research on culturally responsive speech & language therapy
40-60 Tips for providing culturally responsive therapy
60-65 Q/A
Login and logout times will be recorded and documented. To complete the course, join us live on December 2 at 8pm eastern, take the quiz( in your course) and survey (sent via email). When you have completed these requirements a certificate will be available in your profile.
Upon completion of the above, you will also be directed to fill out information about ASHA. If you would like your participation reported to ASHA, you must fill this out by December 10, 2020.
ABA SPEECH is committed to providing equal opportunities in accordance with all applicable laws. If you are in need of a disability-related accommodation, please contact support@abaspeech.org. We will review your request and respond in a timely manner. Please note that we will require a minimum of 4 weeks to provide a reasonable accommodation for your request.
Visit https://abaspeech.org/course or give us a call at 330-954-0170 if you have questions.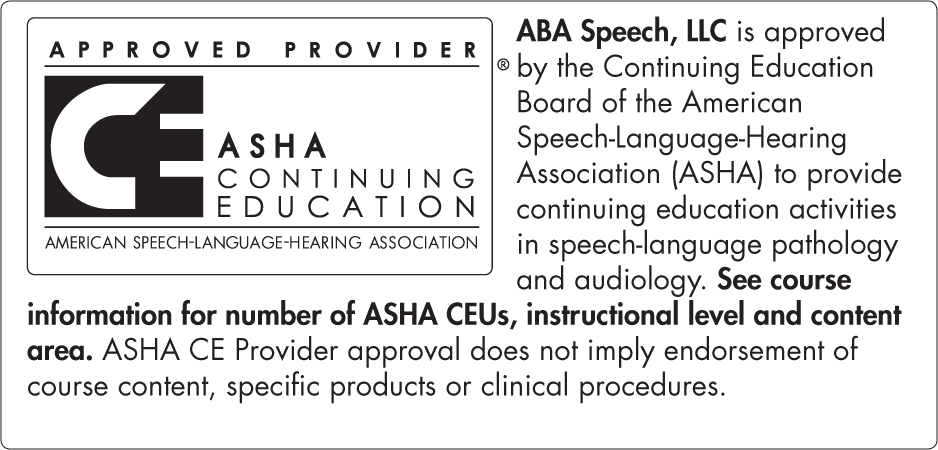 This course is offered for .10 ASHA CEUS
(Introductory Level, Professional Area)