Individuals Who Use AAC and The Transition to Adulthood
Presented by: Rebecca Eisenberg, M.S. CCC-SLP
Bio: Rebecca Eisenberg is a speech-language pathologist and has worked in a variety of settings including day habilitation programs, public and private schools, clinics, group home, and private homes since 2001. She is currently part of the tech team at WIHD in Valhalla and consults with schools on how to implement AAC in the classroom. Rebecca works with adults with developmental disabilities and trains individuals, their families, and staff to implement AAC in their home and community. Rebecca is also a children's book author and a certified autism specialist.
Presenter Disclosure: Financial: Rebecca Eisenberg is paid a percentage of sales from this presentation. She has authored games/materials related to this topic, for which she receives royalties.
Nonfinancial: No relevant relationships to disclose.
Content Disclosure: This learning event does not focus exclusively on any specific product or service.
Course Description: In this course, participants will learn about working with AAC users at the high school level. This course is intended to help speech language pathologists understand the transition process and how to facilitate success for these students. Funding options, transition strategies and therapy tools that are helpful for students at this level are discussed.
Learner Outcomes
1. After this course, participants will be able to list three funding options for an AAC user transitioning into adulthood.
2. After this course, participants will be able to list the three factors that help contribute to a successful transition for students using AAC.
3. After this course, participants will be able to list four different options for students using AAC post- graduation.
4. After this course, participants will be able to list three therapy tools that will help our students using AAC that are transitioning.
Course Agenda

0-10 minutes Introduction and Transition Defined
10-20 minutes Evaluation and Funding For Students Transitioning
20-30 minutes What Are The Post Graduation Options
30-40 minutes Vocabulary Selection
40-50 minutes Support System and Communication Partner
50-60 minutes Key Factors For Success
60-70 minutes Goals/ Therapy Materials
70-80 minutes Case Studies
Course Participation Requirements
Login and logout times will be recorded and documented. To complete the course, include your ASHA information when registering, view the course videos, take the quiz. When you have completed these requirements a certificate will be available in your profile.
ASHA CE Registry Submission: When you enroll in a course and select to request ASHA CEUs for course completion, ABA Speech will prepare to automatically submit your information to the ASHA CE Registry once completion requirements have been met (i.e. view the videos and take the quiz). ABA Speech submits this completion information monthly [on the 15th of the month].Please allow three weeks from the submission date by ABA SPEECH for the course and ASHA CEUs to appear on your ASHA transcript.

ABA SPEECH is committed to providing equal opportunities in accordance with all applicable laws. If you are in need of a disability-related accommodation, please contactrose@abaspeech.org. We will review your request and respond in a timely manner. Please note that we will require a minimum of 4 weeks to provide a reasonable accommodation for your request.
Visit https://abaspeech.org/course or give us a call at 330-954-0170 if you have questions.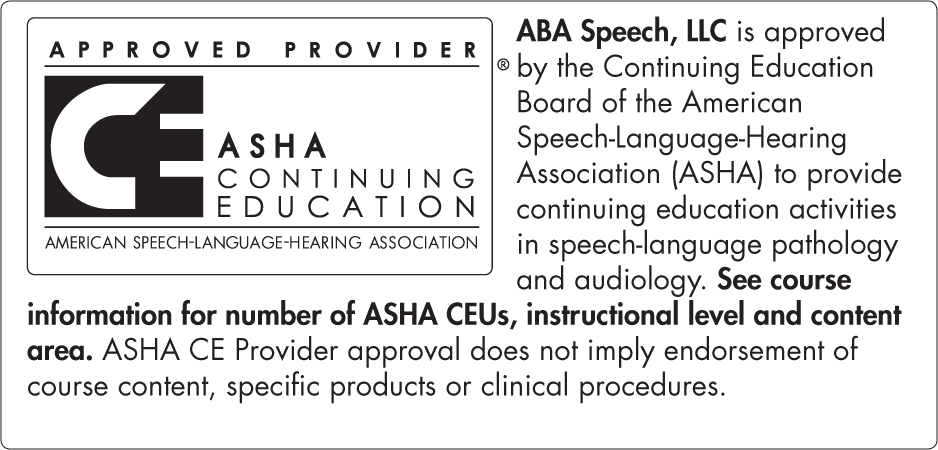 This course is offered for .10 ASHA CEUS, (Introductory Level, Professional Area)