***Register Here For The LIVE WEBINAR***
Presented by: Rosemarie Griffin CCC/SLP BCBA
Presenter Disclosure: Financial: Rose Griffin is the founder of ABA SPEECH and will be paid a percentage from the sales of this webinar. Non-financial: Rose is founder of "ABA Speech" website and blog.

Content Disclosure: This learning event does not focus exclusively on any specific product or service.
Course Description: : In this course, participants will learn the importance of social skill instruction and leisure skill building for students with autism and other complex communication disorders. There will be a focus on individuals in 6th grade to adulthood. Videos will be used to illustrate these concepts.
Learner Outcomes
Participants will identify 2 assessment tools to use to identify leisure skill needs
Participants will be able to describe a data collection method for leisure activities
Participants will list 5 modified leisure activities.
Course Agenda
0-10 Introduction, Importance of direct leisure skill instruction
10-20 Assessment tools for leisure skill instruction
20-30 General framework for leisure skill instruction
30-45 Goal setting and Data collection
45- 77 Modified leisure activity strategies
77-86 Case Studies
86-90 Evaluation
To complete the course, view the course live, take the quiz, complete the survey, complete the ASHA participant form as stated and send to rose@abaspeech.org or ABA SPEECH P.O. Box 733 Aurora Ohio 44202 ( please do not fold). When you have completed these requirements a certificate will be available in your profile.
ABA SPEECH is committed to providing equal opportunities in accordance with all applicable laws. If you are in need of a disability-related accommodation, please contactrose@abaspeech.org. We will review your request and respond in a timely manner. Please note that we will require a minimum of 4 weeks to provide a reasonable accommodation for your request.
Visit https://abaspeech.org/course or give us a call at 330-954-0170 if you have questions.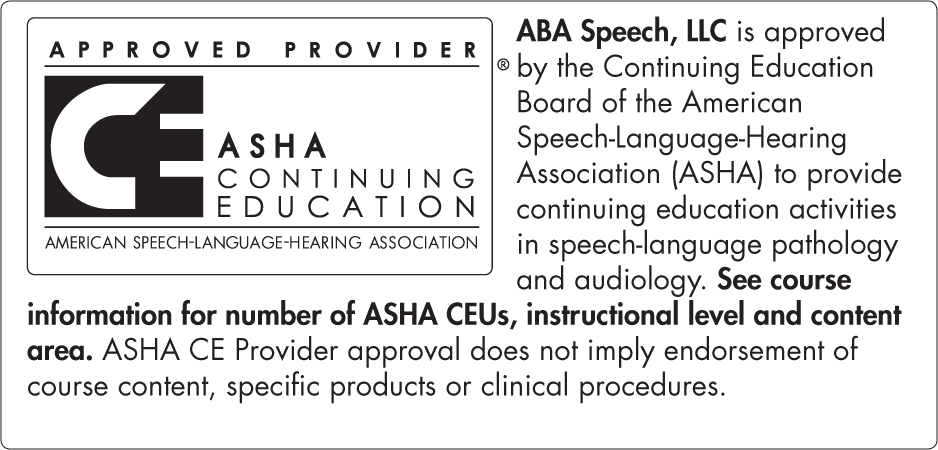 This course is offered for .15 ASHA CEUS, (Introductory Level, Professional Area)