A Guide to Helping Learners with Limited Speech Intelligibility
Presented by: Liz Willis CCC/SLP/L BCBA
LIz is a pediatric speech-language pathologist and behavior analyst in Morris County, NJ. She received her degrees from Penn State University in Communication Sciences and Disorders. Liz is a member of the American Speech-Language-Hearing Association (ASHA) and is licensed to practice speech in New Jersey and Pennsylvania.
Liza has worked with children with a wide range of needs and has extensive experience in working with children with autism and other complex communication needs. In her work with children with autism, Liz was exposed to the science of Applied Behavior Analysis (ABA). She witnessed firsthand the effectiveness of ABA with her clients, which led her to pursue certification to become a Board Certified Behavior Analyst (BCBA).
In addition to utilizing ABA principles in her direct service, Liz provides consultation and training to school teams. She also enjoys working closely with parents and families to promote generalization and maximize progress for the children with whom she works.
Presenter Financial Disclosure: Liz Willis is owner of Communication and Behavior Solutions. Liz will be paid a percentage from the sales of this webinar. Presenter Non-financial Disclosure: Liz is the founder of the website and blog Communication and Behavior Solutions.

Content Disclosure: This learning event does not focus exclusively on any specific product or service.
Course Description: : This course offers a systematic approach to vocal programming for learners with decreased speech intelligibility. It will focus on learners with vocal imitation skills who are demonstrating some functional communication, but need to improve their speech skills. The course covers assessment, treatment, target selection and progress monitoring.
Learner Outcomes
Participants will be able to identify 4 steps in the vocal programming process
Participants will be able to perform an intelligibility assessment
Participants will be able to identify the 4 steps in the echoic protocol
Participants will be able to write an individualized, measurable and functional vocal programming goal
Course Agenda
0-5 minutes Introduction and review of objectives
5-25 minutes Assessment
25-35 minutes Treatment Selection
35-45 minutes Target Selection
45-55 minutes Progress Monitoring
55-60 minutes Review and Key Point Review
Login and logout times will be recorded and documented. To complete the course, include your ASHA information when registering, view the course videos, take the quiz. When you have completed these requirements a certificate will be available in your profile.  
ABA SPEECH is committed to providing equal opportunities in accordance with all applicable laws. If you are in need of a disability-related accommodation, please contactrose@abaspeech.org. We will review your request and respond in a timely manner. Please note that we will require a minimum of 4 weeks to provide a reasonable accommodation for your request.
Visit https://abaspeech.org/course or give us a call at 330-954-0170 if you have questions.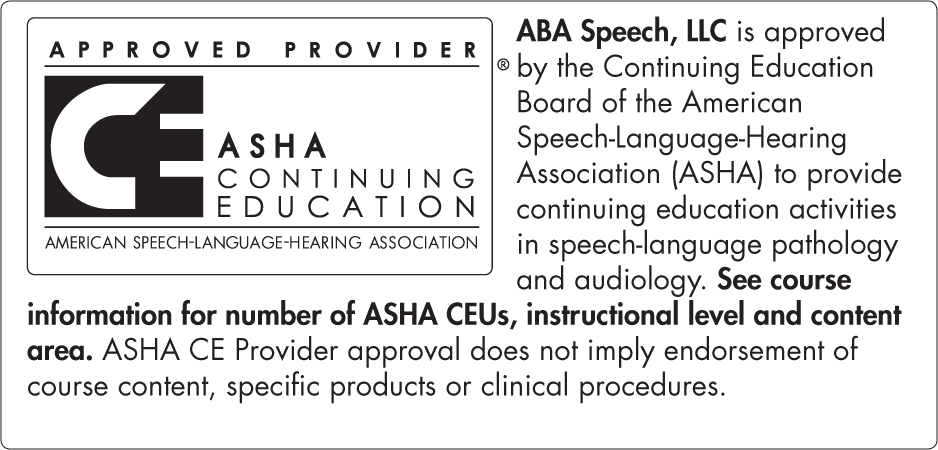 This course is offered for .10 ASHA CEUS
(Introductory Level, Professional Area)