How to Feel Confident Doing Push-In Therapy As a Speech Language Pathologist
$125.00
Description
Presented by: Felice Clark M.S. CCC-SLP
Bio: Felice is an ASHA certified Speech-Language- Pathologist and therapy resource creator. She currently works part-time in the school setting working with elementary-aged students. Felice is passionate about helping school-based SLPs feel confident managing their caseloads by providing practical ideas and resources to help them plan engaging therapy sessions.
Presenter Disclosure: Financial: Felice is paid a percentage of sales from this course. Felice is the owner of Felice Clark Speech Pathologist Inc.
Non-financial: Felice is the creator of the Dabbling Speechie Blog.
Content Disclosure: This learning event does not focus exclusively on any specific product or service.
Course Description: This course will help speech-language pathologists learn more about the push-in therapy model. Collaborative service models, lesson planning, strategies for working with classroom staff and data collection will all be discussed. Videos and lectures will be used to teach these concepts. 
Once you purchase the course, Please log in to the website. Once logged into your profile you should see your course. If you have any trouble please contact us at rose@abaspeech.org
Learner Outcomes
Upon completion of this course, participants will be able to:
Identify 2 types of collaborative service delivery models to use when serving students
Identify the essential components to use when planning a push-in lesson
List 3 ways to effectively collaborate with teachers and staff when providing push-in therapy
List 2 data collection methods for push-in therapy
Course Agenda
10:36 Introduction to Push-In Therapy Model
14:00 Barriers to Push-In Therapy
37:14 Collaborative Service Delivery Models
44:09 Benefits of Push-In Therapy
48:27 Data Collection
55:10 Lesson Plan Development
33:49 Push-In Therapy Strategies
57.21 Consultation and Coaching Push-In Model Strategies
Course Participation Requirements
Login and logout times will be recorded and documented. To complete the course, include your ASHA information when registering, view the course videos, take the quiz. When you have completed these requirements a certificate will be available in your profile.  
ASHA CE Registry Submission: After you complete all pieces of the course, you will be directed to fill out a form regarding ASHA CEUSs. Once you fill out the form indicating that you would like your participation reported to ASHA, ABA Speech will prepare to automatically submit your information to the ASHA CE Registry once completion requirements have been met (i.e. pass all assessments and complete program evaluation). ABA Speech submits this completion information monthly [on the 15th of the month]. Please allow three weeks from the submission date by ABA SPEECH for the course and ASHA CEUs to appear on your ASHA transcript.
ABA SPEECH is committed to providing equal opportunities in accordance with all applicable laws. If you are in need of a disability-related accommodation, please contact rose@abaspeech.org. We will review your request and respond in a timely manner. Please note that we will require a minimum of 4 weeks to provide a reasonable accommodation for your request.
Group Pricing: Group Pricing is $95 per member of your group. A group is 3 or more individuals. Email Rose at rose@abaspeech.org and let her know the size of your group.  
Purchase Orders: We take purchase orders. You can pay with a purchase order directly on the site. Email rose@abaspeech.org with any questions about this process. 
Visit https://abaspeech.org/course or give us a call at 330-954-0170 if you have questions.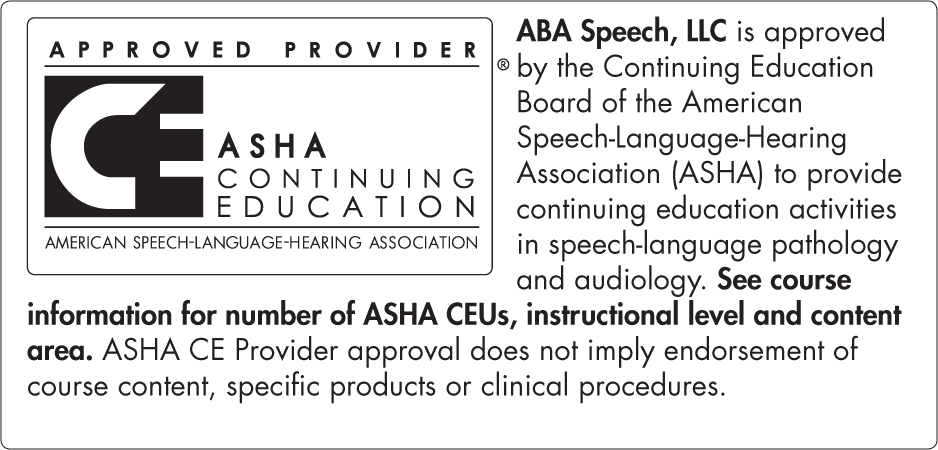 THIS COURSE IS OFFERED FOR 0.45 ASHA CEUS ( Introductory Level, Professional Area)
Additional information
| | |
| --- | --- |
| Quantity | 1, 2, 3, 4, 5, 6, 7, 8, 9, 10, 11, 12, 13, 14, 15, 16, 17, 18, 19, 20, More than 20 |