Description
Presented by:Adrienne De Froy M.S. CCC/SLP
Adrienne has been a speech language pathologist for 10 years. She spent much of that time on the district's autism evaluation team. She is currently a doctoral student at The University of Texas Dallas.
Presenter Disclosure: Financial: Adrienne will be paid a percentage from the sales of this webinar. Non-financial: Adrienne is a student at the University of Texas at Dallas.
Content Disclosure: This learning event does not focus exclusively on any specific product or service.
Course Description: : In this course, participants will learn about barriers for discussing difficult topics with parents, as well as strategies to work through these barriers. Participants will also learn strategies for preparing to share news that may be difficult for parents to process and work through.
Once you purchase the course, Please log in to the website. Once logged into your profile you should see your course. If you have any trouble please contact us at rose@abaspeech.org
Learner Outcomes
1. Participants will be able to list 3 barriers to broaching difficult conversations with parents and a solution for each.
2.Participants will be able to list 4 potential counterarguments from parents and one appropriate response for each.
3.Participants will be able to define 2 strategies that can be used to prepare for when sharing difficult news with parents.
Course Agenda
0-5 Introduction
5-10 The importance of difficult conversations
10-30 Common barriers for having difficult conversations with parents
30-40 How to prepare for discussing difficult news with parents
40-60 Strategies to use when discussing difficult topics with parents
60-82 Advice from parents of children with disabilities
Login and logout times will be recorded and documented.To meet all of the requirements you must fill out the required fields on the registration form, watch the webinar and answer the questions included on the quiz.
ABA SPEECH is committed to providing equal opportunities in accordance with all applicable laws. If you are in need of a disability-related accommodation, please contact rose@abaspeech.org. We will review your request and respond in a timely manner. Please note that we will require a minimum of 4 weeks to provide a reasonable accommodation for your request.
ASHA CE Registry Submission: After you complete all pieces of the course, you will be directed to fill out a form regarding ASHA CEUSs. Once you fill out the form indicating that you would like your participation reported to ASHA, ABA Speech will prepare to automatically submit your information to the ASHA CE Registry once completion requirements have been met (i.e. pass all assessments and complete program evaluation). ABA Speech submits this completion information monthly [on the 15th of the month]. Please allow three weeks from the submission date by ABA SPEECH for the course and ASHA CEUs to appear on your ASHA transcript.
Group Pricing: We offer group pricing and can give you a quote for your group. Email Rose at rose@abaspeech.org and let her know the size of your group to request a quote. 
Purchase Orders: We take purchase orders. You can pay with a purchase order directly on the site. Email rose@abaspeech.org with any questions about this process. 
Visit https://abaspeech.org/course or give us a call at 330-954-0170 if you have questions.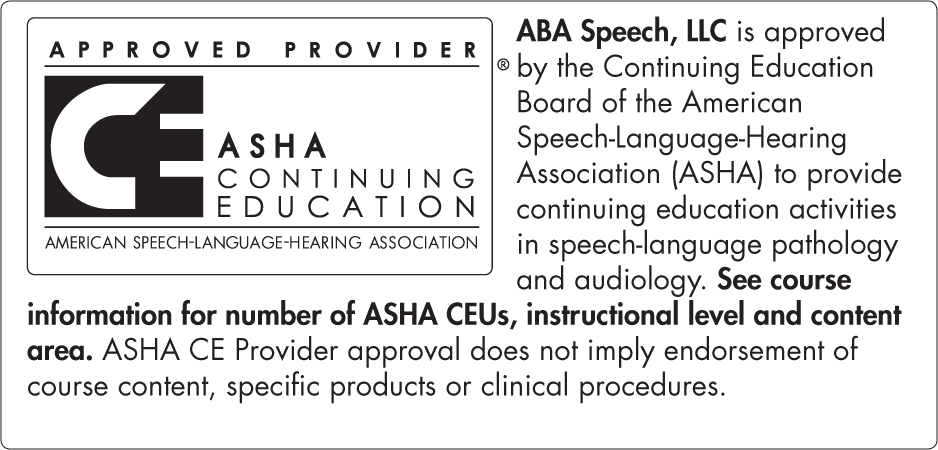 This course is offered for .10 ASHA CEUS, (Introductory Level, Professional Area)