Supporting Students with Behavior Challenges
Presented by: Lauren DiBiase, MA, CCC-SLP/LSLS AVT
Bio: Lauren is an ASHA certified Speech-Language Pathologist, certified LSLS Auditory Verbal Therapist, and Teacher Author.She began her career in a school for the Deaf before transitioning to the New York City Department of Education, where she now works in the largest special education district in the United States. Lauren's passion for creating and sharing social/life skills resources paired with her devotion to supporting students with special needs has led to the creation of her Teachers Pay Teachers store: Lauren DiBiase.
Presenter Disclosure: Financial: Lauren is paid a percentage of sales from this course. Lauren is the creator of the TPT store Lauren DiBiase, she is paid from the sale of products from this store.
Non financial: Lauren DiBiase has no relevant non financial relationships to disclose.
Content Disclosure: This learning event does not focus exclusively on any specific product or service.
Course Description: In this course, participants will learn about identifying the reasons problem behavior occurs and ways to prevent this behavior. A variety of strategies that can be used to decrease this behavior will also be discussed.
Learner Outcomes
1. After this course, participants will be able to identify the reasons behind problem behavior in students with autism.
2. After this course, participants will be able to explain how to use specific visual supports that can significantly improve student behavior and independence and allow successful participation in school and life opportunities.
3. After this course, participants will be able to list behavioral strategies that can be used with individuals with behavioral difficulties.
Course Agenda

0-10 Learning outcomes, Introduction
10-20 Real life examples of problem behavior
20-25 Collaboration with other staff
25- 40 Reasons for problem behavior
40-85 Behavioral Strategies Discussed
85-90 Key Point Review
90-95 Evaluation/Survey
Login and logout times will be recorded and documented. To complete the course, include your ASHA information when registering, view the course videos, take the quiz. When you have completed these requirements a certificate will be available in your profile.  
ABA SPEECH is committed to providing equal opportunities in accordance with all applicable laws. If you are in need of a disability-related accommodation, please contactrose@abaspeech.org. We will review your request and respond in a timely manner. Please note that we will require a minimum of 4 weeks to provide a reasonable accommodation for your request.
Visit https://abaspeech.org/course or give us a call at 330-954-0170 if you have questions.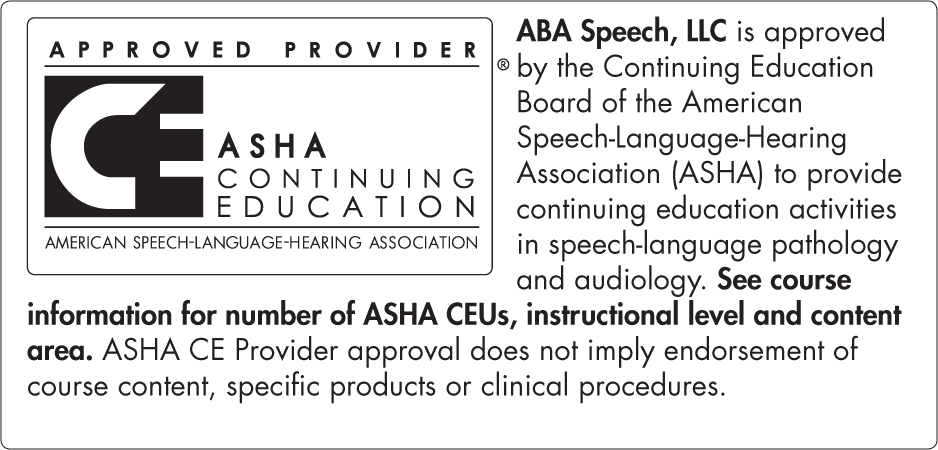 This course is offered for .15 ASHA CEUS, (Introductory Level, Professional Area)