It Can Be Fun and Games: Social Skills and Modified Leisure for grades 6 to Adult
Presented by: Rosemarie Griffin CCC/SLP BCBA
Presenter Disclosure: Financial: Rose Griffin is the founder of ABA SPEECH and will be paid a percentage from the sales of this webinar. Non-financial: Rose is founder of "ABA Speech" website and blog.

Content Disclosure: This learning event does not focus exclusively on any specific product or service.
Course Description: : In this course, participants will learn the importance of social skill instruction and leisure skill building for students with autism and other complex communication disorders. There will be a focus on individuals in 6th grade to adulthood. Videos will be used to illustrate these concepts.
Learner Outcomes
Participants will identify 2 assessment tools to use to identify leisure skill needs
Participants will be able to describe a data collection method for leisure activities
Participants will list 5 modified leisure activities.
Course Agenda
0-10 Introduction, Importance of direct leisure skill instruction
10-20 Assessment tools for leisure skill instruction
20-30 General framework for leisure skill instruction
30-45 Goal setting and Data collection
45- 77 Modified leisure activity strategies
77-86 Case Studies
86-90 Evaluation
Login and logout times will be recorded and documented.To meet all of the requirements you must fill out the required fields on the google registration form, watch the webinar and answer the questions included on the quiz. You must view the entire webinar and answer the quiz questions within 30 days of course registration.
ABA SPEECH is committed to providing equal opportunities in accordance with all applicable laws. If you are in need of a disability-related accommodation, please contactrose@abaspeech.org. We will review your request and respond in a timely manner. Please note that we will require a minimum of 4 weeks to provide a reasonable accommodation for your request.
Visit https://abaspeech.org/course or give us a call at 330-954-0170 if you have questions.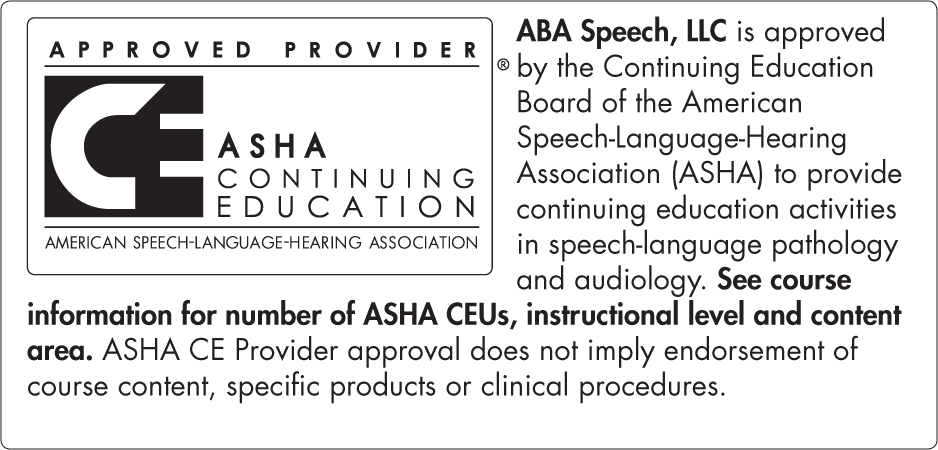 This course is offered for .15 ASHA CEUS, (Introductory Level, Professional Area)